By Danielle Sebastian | December 2012
We have always seen Raffy Tima and Mariz Umali talking about the latest news live on TV. But this December, Raffy and Mariz became the hot topic IN the news when they said their "I do's" in Santuario de San Jose in San Juan.
The Love Story
Raffy and Mariz met when they crossed paths in GMA7 in 2001. Raffy was then already a news reporter while Mariz was simply an intern. As time passed, the couple became friends. Back then, Raffy already admired Mariz but he was careful not to make a move because Mariz had a boyfriend. It was only when Mariz and her ex-boyfriend had broken up that Raffy decided to court her.
Starting 2009, Raffy courted Mariz for a year. Their friendship blossomed and on January 1, 2012, Raffy proposed to Mariz at a dinner party.
In a recent interview with the Philippine Entertainment Portal (PEP.ph), Mariz shared the traits she liked in Raffy. "He is really kind-hearted, very intelligent, and sensible. Has a great sense of humor and a perfect gentleman. He is truly God's answer to my prayer." Mariz admitted that she has long been praying for the right man to come along. "Para sa akin kasi, prayer is very powerful na parang He will answer all your wishes, your dreams. Parang without me knowing, nandiyan lang pala sa tabi ko. Katrabaho ko lang pala."[For me, prayer is very powerful like He will answer all your wishes, your dreams. Without me knowing, he was already beside me. He was a colleague.]"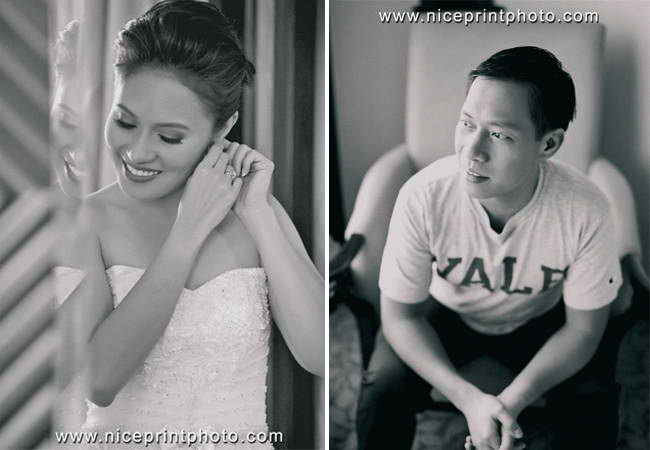 The Wedding
The wedding of Raffy and Mariz was a simple, elegant and intimate affair with family, friends and friends from the industry. The reception had a fairytale and magical wedding vibe with the tent decorated like a Victorian Holiday palace in pink and purple tones. Reception tables were decorated with rustic vases with pink and purple flowers and vintage candleholders. The vases of the flowers were covered with photos of Raffy and Mariz. And even their wedding cake was all white with vintage accents.
The wedding gown of Mariz further highlighted Mariz's classic beauty. Her gown paired with her detailed sleeves was perfectly feminine and elegant without being too conservative or bare. The female entourage wore dresses in pink hues.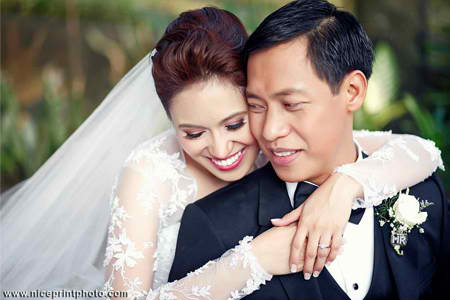 Their principal sponsors including Mike Enriquez, Mel Tiangco, Vicky Morales, Arnold Clavio, Manny Pacquiao and Atty. Felipe Gozon, gave the couple heartwarming messages and wishes.
All of their family and friends were very happy to see two good, smart and talented people in love. Even Charisse Tinio of Nice Print Photography loved working with the reporter couple. "They are very down to earth, very sweet and appreciative. Mariz as a bride is a very hands on bride – she knew all the details that she wanted for her wedding."
The Nice Print team were even mentioned and thanked by Mariz after their on-site wedding video was shown. Mariz said, "Didn't you just like the videos that Nice Print did!? These are the same people behind the Zoren-Carmina wedding!" The Nice Print team is once again honored to be the official photo and video team for this celebrity wedding.

In the end, we are all happy to see friendships blossom into love and marriage especially when good, honest people are involved. Congratulations and best wishes to Raffy Tima and Mariz Umali from Kasal.com!
Visit Kasal.com Supplier Directory for the contact details of these suppliers.
Comments
comments