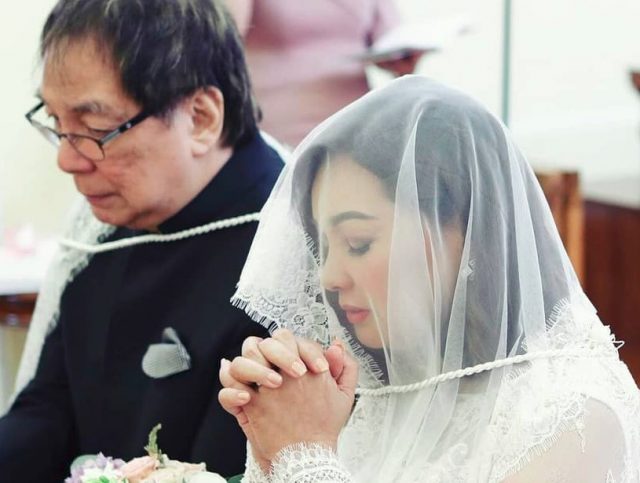 Last week, news about showbiz personality Joey De Leon and long-time partner Eileen Macapagal having a civil wedding at the Supreme Court broke out.
Apparently, it was not the only wedding that took place. The couple tied the knot once more–this time in a church wedding.
Joey and Eileen's daughter, Jocas (@jocasdeleon), shared the news on her own Instagram page.
"I am still reeling from the events of the last nineteen days: two weddings, three weeks total of planning and preparation… one great dream that has taken thirty-five years to finally come true. ❤❤❤❤❤ I love you mommy and daddy! 😘😘 📸 @kester88
💄@chinkytanjangco," her post read.
Besides this heartwarming post, Jocas also shared about the precious moment she spent with her mom while in the bridal car.
"I have long envisioned this exact scene: me sitting beside my mom in a bridal car, both of us in gorgeous dresses, waiting to be brought to that sacred place where she and my dad could finally receive the sacramental blessing of a life-long marriage. It still seems surreal but everything played out so beautifully… just the way it was planned and meant to be 💕," she wrote in the caption.
Jocas also shared about her being her mom's Maid of Honor.
In the caption, she said, "I am HER Daughter, Best Friend… and now, Maid of Honor. 💐"
The exact venue of the church wedding remains unknown to this day. What matters, though, is that everyone's happy for Joey and Eileen for their union.
Joey and Eileen have been together for 35 years. Apart from Jocas, they had two other childen–Jako and Jio.
Congratulations to the newlyweds!
Comments
comments