Mary Grace Chan and Ricardo Faigones, Jr
by Danielle Sebastian | October 2012
Mary Grace Chan has been in the wedding photography industry for a long time. From being behind the scenes of dream weddings, she has finally celebrated her own last August 26, 2012. Ms. Chan became Mrs. Faigones when she married the love of her life, Ricardo Faigones, Jr. at the Christ the King Parish in Quezon City.
The Love Story
Grace and Ric met in college where they were both studying. Being classmates in the same subjects, Grace and Ric saw each other almost every day in school. From classmates, their relationship blossomed into friendship and then love.
For the past eight years, Grace and Ric have been together as boyfriend and girlfriend. Even as hardships came and went, they stuck together and proved to each other that their love can withstand even the test of time. From then on, they knew that they were meant to be together forever. So last September 2010, Ric proposed to Grace at a romantic overlooking place in Antipolo, Rizal. A week later, they announced and celebrated their engagement with friends and relatives.
The Wedding Planning
The wedding planning started last January 2011, more than a year before their wedding date. Being from the wedding industry, Grace took charge of listing the wedding suppliers needed for their day. First on their list was the Ceremony and Reception venue. Easily, they decided to celebrate their wedding at the Christ the King Parish in Quezon City, which also had a hall for wedding receptions.
Being a couple with busy day jobs, meeting with wedding suppliers together was a challenge. Most of the time, Grace went ahead to meet with them. She then consulted Ric afterwards for the final decisions. What mattered most was that they respected each other's decisions and that they were patient with wedding preparations and with one another.
Grace and Ric chose a blue color motif for the special wedding day. Blue symbolized purity, love, and fidelity – exactly how Grace and Ric planned to live their married life.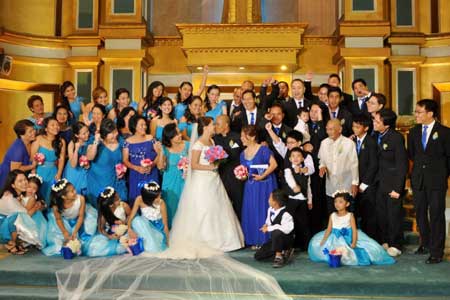 The Perfect Blue Wedding
Having friends in the wedding industry surely helped Grace and Ric executed the wedding of their dreams. Ariel Javelosa, their very own company, provided their excellent photography and videography services. They absolutely felt at ease with the very courteous and patient team.
Edward Teng designed the couple and the entourage's wedding ensemble. Grace's wedding gown was simple, elegant and brought out Grace's inner beauty. Ric, on the other hand, wore a dashing black Chinese-collared suit. The bridesmaids glowed together in light and dark blues. They perfectly complemented the blue motif of the whole wedding.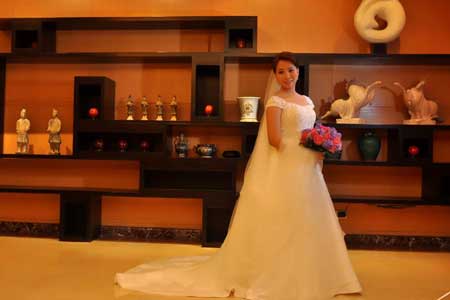 Josiah's Catering provided great sumptuous food at the reception. All the guests were gastronomically satisfied and kept coming back for more.
Joy San Gabriel also Grace's industry friend, designed and baked their wedding cake and the pastries. The wedding cake, like the whole wedding, exuded simplicity and elegance. The guests were raving about the delicious pastries.
1558 Flowers and Styles also provided great service especially with the beautiful bridal bouquet, bridesmaids bouquets and the flower arrangements in church.

In the end, the wedding planning all paid off when Ric and Grace celebrated the wedding of their dreams. They are now happily married and looking forward to more happiness that marriage brings to life and love.
Comments
comments