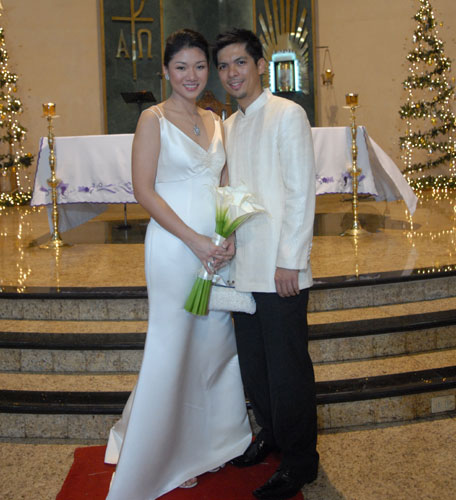 Rene Saguisag Jr. and Jackie Crisologo
by Jonathan Dionisio | January – March 2009
Couples usually start planning for their wedding a year in advance to ensure that every wedding detail is prepared .In the case of Rene 'Rebo' Saguisag, Jr. and Jackie Crisologo, they had prepared everything but something took place which no one could ever prepare for.
'Rebo' and Jackie were classmates at the Ateneo Law School from 1999-2003 and started dating in November of 2001 during their junior year. After four and a half years, the two were engaged on August of 2006. "No special proposal," recalls Jackie, "we just talked about it and decided to have a Tagaytay wedding."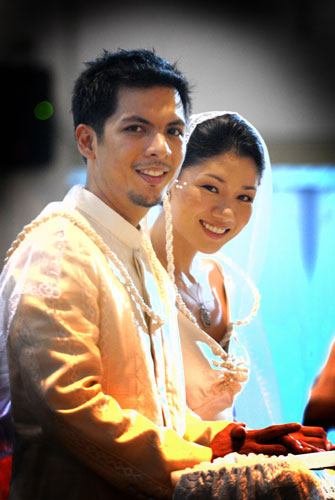 The two booked the Caleruega Chapel and the Sampaguita Ballroom of Taal Vista Hotel for December 22, 2007. From then on, they started booking other suppliers and by the end of October 2007, they were all set for their special day. But something unexpected happened which tested their relationship and their faith in the Lord.
In the wee hours of November 8, 2007, newsrooms of newspapers, radio, and television stations were awaken by the news that Rebo's father, former senator Renato 'Rene' Saguisag, his wife, former Department of Social Welfare and Development (DSWD) secretary Dulce Quintans – Saguisag, and two other companions were figured in a vehicular incident at the intersection of Arnaiz Avenue (formerly Pasay Road) and Osmeña Highway (South Superhighway). Minutes after, rescuers arrived at the scene only to find Mrs. Saguisag with no pulse and heartbeat while the former senator had serious head injury and fractured ribs, among other things.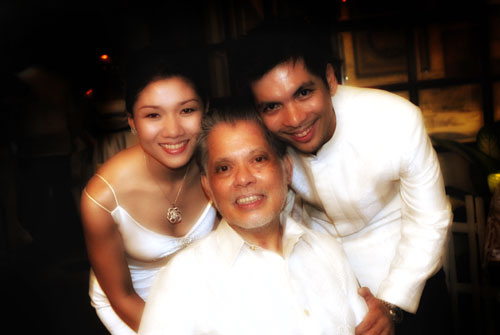 Sen. Saguisag was initially brought to the Ospital ng Makati before being indorsed to the Makati Medical Center (MMC). For three weeks, the former senator was confined at the Intensive Care Unit of MMC. When he started responding to the treatment; Rebo and his family decided not to tell his father about the tragic fate of his mother. As for the couple, they have decided to postpone the wedding indefinitely. Jackie had to write their wedding suppliers, one by one, and explained the situation to them. Most were gracious enough to understand and gave them a refund since the couple has handed down payments for all of them.
As the eldest, Rebo took care of everything – from attending to his father's needs to the interment of her mother. Jackie, on the other hand, like Mrs. Dulce was to Sen. Saguisag, served as his 'crutch' during this time. In the morning, she would accompany him in the hospital until the afternoon. In the evening, they would stay at the wake until dawn to receive guests and other family members who were extending their condolences. At times, Rebo would pour out his sentiment to Jackie and she saw how strong, like his father, her fiancé was as he handled the tragedy admirably.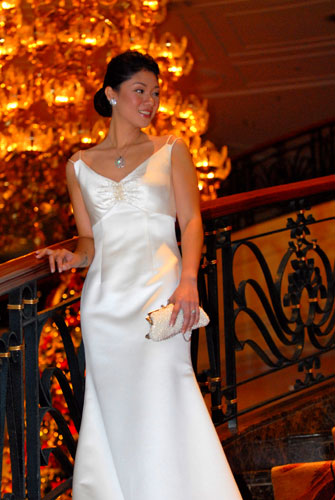 On December 8, 2007, Sen. Saguisag was discharged from the hospital. On the same date, the two, after due consultation with the Senator, decided to push through with the wedding on Dec. 22, 2007 as everyone believed that it was what Rebo's mother would wanted. It was agreed, however, that it would be a simple affair.
Since they have cancelled their original plans, the couple ended up planning all over again. Ms. Crisologo recall, "Those 2 weeks were the most frantic and stressful in our lives, but well worth it. We will forever be grateful to our friends and relatives for helping and supporting us all throughout. Without them the wedding would not have turned out as perfectly as it did. We will likewise be forever grateful to our principal sponsors who were able to attend despite short notice."
The couple chose to have the wedding ceremony at Rebo's parish church, St. Joseph the Worker Parish, in Palanan, Makati. Jackie asked Armilyn Modelo, whose shop is just conveniently a few blocks away from her house, to make her bridal gown which was finished in seven (7) days. "It was a sleeveless dress with no train and veil, made of ivory duchess satin and with pearls and beads on the V-neckline, "Ms. Crisologo describes. Rebo, on the other hand, wore a Nono Palmos coat – barong. At the church, they opted not to do the bridal procession and walked together straight to the front.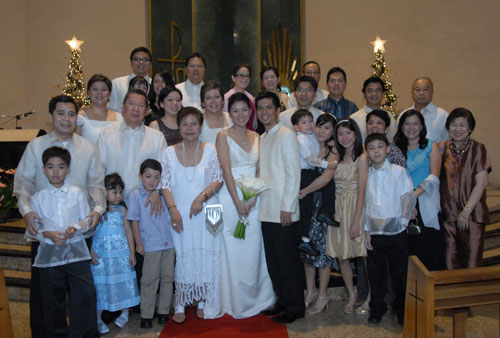 The garage of the Saguisag residence was transformed into a "garden venue" for the reception. L & C Catering served the food as guests were entertained by acoustic band, Arko, and Rebo himself. Traditional wedding programs were removed and had few speeches from family and friends instead.
"The most special and memorable to us" shares the couple," was the fact that Rebo's dad was present, and even gave a short speech, at our wedding, which was short of a miracle. On the other hand, we sorely missed Rebo's mom, who had been so excited and who had planned the wedding with us every step of the way."
The newlyweds spent their honeymoon at Hongkong Disneyland in February 2008.
"Ours is an unusual wedding story", Jackie said, "None of our original plans for the wedding pushed through, but in the end, it was just getting married in the presence of our loved ones and closest friends that mattered most."
A verse of a popular Irish Prayer spells "for every storm, [there is] a rainbow…" For Rebo and Jackie, they remained steadfast and overcame the tragedy that shook the Saguigag family. They may not have a grandiose wedding, but they were happy. They came before God with their family and friends who love them, stood by them and supported them all the way.
With love, a couple shall be able to withstand storms in life, no matter how devastating it would be.
Wedding Suppliers
Catering – L & C Catering
Photography
– Nice Print Photography
Design and Couture
– Bridal Fashion – Armilyn Modelo
– Men's Attire – Nono Palmos
Hair and Make-up Services
– Maris Delos Reyes
Flowers and Event Styling
– Flowers of May
Music and Entertainment
– Musicians – Arko
Visit Kasal.com Supplier Directory for the contact details of these suppliers.
Comments
comments