By Jonathan Dionisio
Aside from personal stories, couples now use blogs to tell their love stories and wedding preparations. From their proposal stories to pre-nuptial preparations, couples diligently write their experiences and share it with others. Here are two inspiring stories Kasal.com was able to find.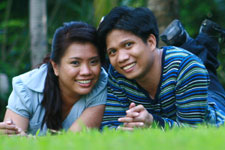 Ian Villamora and Tahnia 'Tani' Dulay met each other at the University of the East – Ramon Magsaysay Memorial Medical Center during a gathering of their fraternity and sorority, Mu Lambda. First impression: nothing. In fact, she thought he was 'too goody-goody' while he thought she was 'too easygoing'. But time has a way of dealing with things, including their relationship.
After an out-of-town trip with their brothers and sisters in the frat, they realized that they liked each other. And before they knew it, they were standing right next to each other in a secret civil wedding – far from the lavish wedding Tani had always fantasized about. After six years and two children, the couple had encountered numerous challenges in their relationship. From marital woes to financial priorities and mindsets, Ian and Tani have continuously held on to each other amidst these trials.
In celebration of their 6th wedding anniversary, the two have decided to formally tie the knot on January 24, 2009. With 'Starry, Starry Night', a mix of midnight blue with pink, yellow, lime and silver accents as their motif, Ian and Tani will exchange their vows before the Lord at the Shrine of St. Therese of the Child Jesus in Pasay City. They, together with their guests will dine at The Blue Leaf Events Pavillion in Fort Bonifacio, Taguig City. Tani describes their 'second' wedding as "a celebration of thanksgiving for our family who continue to support us and for our friends who remained through the years. We are also thankful for our many wonderful experiences together as a couple [and] looking forward to the bests that are yet to come".
The Real Magic of Love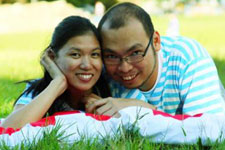 Marco Paulo Rono and Ritchie-Anne 'Chee' Guzman has been a couple for four years. The nature of their work has allowed them to travel to different places in the world. But they consider Japan, specifically the city of Kyoto as the most memorable. During one of Marco's trips, he drank from all the fountains of Kiyomizudera Temple, which is believe to bring luck in love to those who drank in it. Months after, he met Chee-Anne and fell in love with each other.
Because of distance, email was their primary tool of communication. In one of Marco's emails, he told Chee "I've said it so many times but I'll keep on saying it – it's really amazing how God put us together. Looking back at all the crossroads leading to us being together, there were just so many point that it could not have happened at all, save for God's will. Each day talaga [really] is another day to thank Him, so much, for giving us this gift. You make me happy, Chee, I do feel cared for when I'm with you and I do feel the overflowing love that you share to me.
In March of 2007, Marco planned to propose to Chee during their protocol visit at Kiyomizudera Temple at Kyoto, but problem arose which caused a petty quarrel between the two. This event also led him to re-think his plan. Inside the tour bus, he gave her a 'proposal card' which he has bought 10 years ago for the girl he will marry. Chee loved the gift and considered it as the best peace token he ever gave. The next bus stop took them to Ryoanji Temple where he proposed to her, with two servants of the Lord, one of them was a priest, as witnesses to the proposal. The couple will be married on December 19, 2008 at the San Agustin Church.
. . . . . . . . . . . . . . . . . . . . . . . . . . . . . . . . . . . . . . . . . . . . . . . . . . . . . . . . . . . . . . . . . . . . . . . .
Last November 23, 2008, these two couples who shared their wedding preparations through their blogs won hotel accommodations and gift items during the Before I Do Blog Wrirting Contest of Dream Weddings and Destinations: Before I Do Bridal Fair 4th Edition held at SM Megatrade Hall 3, SM Megamall in Mandaluyong City.
Ian and Tani won the Grand Prize; a three days and two nights accommodations at Hotel Vida in Clark, Pampanga and gift pack from pH Care Intimate Wash. On the other hand, Marco and Chee-Anne were the runner-ups of the contest and received an overnight package at Hotel Vida and gift pack from pH Care Intimate Wash.
Comments
comments