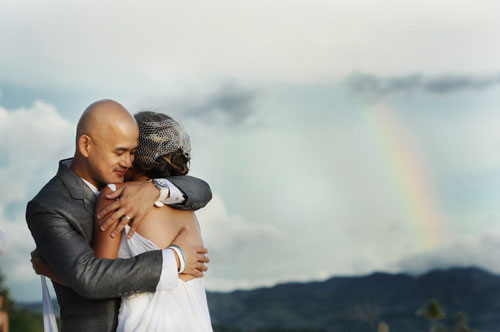 John Mateos Ong and Monique Asensio Lopez
by Jonathan Dionisio | January – March 2010
The beauty of a wedding is immortalized through pictures. It allows the couple to reminisce their unforgettable day over and over. In this case, the numerous wedding photos of wedding photographer John Mateos Ong and host and event planner Monique Asensio Lopez tell a story of love and a day filled with blessings and grace from the Lord.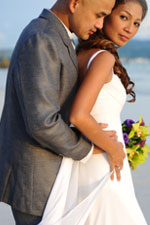 Prior to being part of the wedding industry, John was the president of an events company called WishCraft, Inc. Monique, on the other hand, used to be employed under John's top competitor company called Livewire Entertainment. The two first met in a bidding for a San Miguel project in 2002. As John describes it, after that bidding, they set their eyes on each other not in a romantic way but as someone to watch out for in the events industry.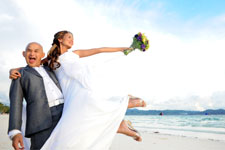 As competitors, the two would usually bump into each other during project bids. In the process, the two became fond of each other and before they knew it, the former competitors became a couple.
Picture Taking turned Proposal
After years of being together, John finally decided to ask Monique the big question. Initially, he planned to propose September of 2008 in the US at the 230 Fifth Rooftop Garden, which has a commanding view of the Empire State Building. Unfortunately, it rained and he postponed his plan. Last December 22, 2008, John decided to propose to Monique during the wedding of her childhood friend in Iloilo, Monique's hometown.
John brought in Monique's friends on his secret plan to propose. The following day, John told her that he invited all her friends in a certain beach restaurant for a reunion lunch. After the meal, picture taking ensued, and at one point, a friend asked John to go down on one knee as if proposing to her. Afterwards, someone handed John the engagement ring. Monique shares, "My first reaction was "Huh, what gimmick is this?" I looked at the ring and even asked if it's real…"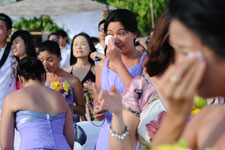 John then said, "It's real. Will you marry me?"
The Preparation Stage
As a wedding photographer himself, it was easy for him and Monique to choose the other wedding suppliers. John's toughest challenge was to choose the photographer for their wedding. John revealed he has some concerns over his company, Imagine Nation Photography, working on his wedding day. However, being a wedding photographer, people expected more out of his wedding pictures. And who can he trust more to take care of this but his very own team?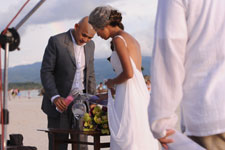 Moments Perfectly Captured
John and Monique said their 'I do's' last July 2, 2009 in a Boracay beach wedding. The couple is very fond of the beach, John, being an accredited member of the Professional Association of Diving Instructors (PADI) and Monique, an advanced open water diver. Instead of the traditional candle ceremony, they had a sand ceremony. Another unique twist, they had the secondary sponsors say something before they actually placed the cord and veil over the couple.
A total of ten official photographers from Imagine Nation Photography covered the entire wedding. Each one of them was assigned to cover a specific part of the ceremony. Even the guests themselves acted like John and Monique's wedding photographers. John shared that one of the guests counted and said he saw 40 cameras during the ceremony. Weeks after, their Facebook account was filled with their wedding photos taken by their wedding photographers and guests.
John and Monique's wedding photos only tell a fraction about their special day. It cannot explain how, in God's grace, despite Aklan being hit by a storm days before, the sun shone brightly and a rainbow was present during their wedding day. And even though their guests' flights did not land in Caticlan as planned, they were able to make it. However, these photos do tell one thing: that John and Monique Ong were the happiest people that day as they finally exchanged vows before the Lord and promised to love each other for the rest of their lives.
Comments
comments