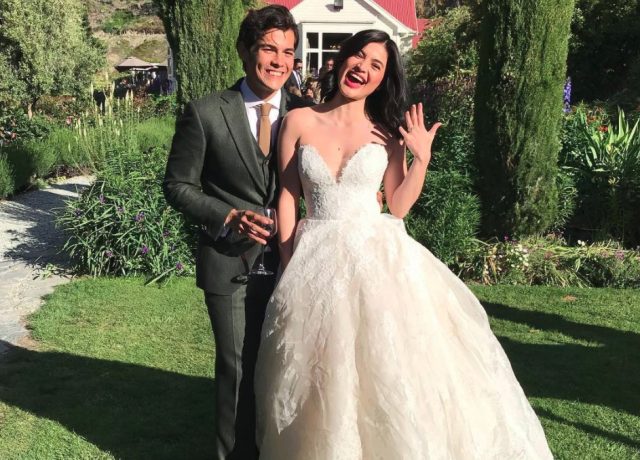 Anne Curtis and Erwan Heussaff's wedding film has been released by Jason Magbanua recently, and we are so thrilled.
Why? That's because it's our favorite celebrity wedding of 2017! Lots of celebrities, both local and international, got married this year. While each celebration was lovely in their own unique ways, we could not help but still feel the kilig for Anne Curtis and Erwan Heussaff's union that took place last month. In fact, we aren't quite sure if we can get over it anytime soon.
Now, let us remind you why we really love this wedding.
This wedding took us by surprise.
As soon as Anne and Erwan had gotten engaged last year, rumors about their wedding already began circulating. However, the couple and their friends remained so secretive about their wedding details. It was only when the news about their welcome dinner on November 11 broke out that we were able to find out some important information about the occasion. But it was worth the wait, of course. It was truly one of the most beautiful weddings we have ever seen.
Their chosen location was fantastic.
New Zealand is a beautiful country, but we have to be honest that it hasn't been a common wedding destination among Pinoys yet. No wonder, when people started talking about Anne and Erwan's wedding, it was suddenly put under the spotlight. Many admired the beauty of the country and the places that could be found here, particularly in Queenstown where the celebrity couple chose to marry. Even their guests appreciated the picturesque view around them, as shown in their social media posts.
The couple went for a unique but very elegant wedding motif.
Burgundy wine and dark blue—this may seem a peculiar combination for some but Anne and Erwan showed us that they actually looked great together. Therefore, Anne and Erwan's wedding was able to prove that couples could actually be more playful when deciding on their wedding details.
Anne really looked great on her special day.
Anne has always been so lovely, and that's already a given. But there is something in her wedding look that made her even more special on her big day. Perhaps her choice of makeup, hairstyle, and wedding dress also helped a lot. Her choice of footwear also made her a bad-ass bride. Plus, all the love she could feel on that day might have made her look radiant that day.
The rawness the emotions of everyone involved in the wedding was just heartwarming.
Like you, we were also abangers during Anne and Erwan's wedding. We eagerly followed people's posts about their welcome party, ceremony, and reception. We just could not stop; the posts were so addictive! Maybe one of the reasons why we were so hooked was because everything felt so real in their wedding. Besides their lovely wedding details, we were also very eager to know the different stories from their friends and relatives' perspectives. It was nice to see them have fun during the party, too!
Anne and Erwan may be celebrities, but they have always been unafraid to show what makes them human—especially on their wedding day.
Anne looks like a goddess. She just looks so perfect that we sometimes forget she's also a human being. Same goes with Erwan. He's just so good at everything he does and he looks adorable! But if you have been following them and their love story, you would know that they, too, are capable of feeling the very same emotions that we have on a regular basis. And yes, we've seen many of these emotions during their wedding, especially as they recited their wedding vows.
Oh, Anne and Erwan—what a perfect couple you are! You simply deserve all the happiness in the world.
Comments
comments