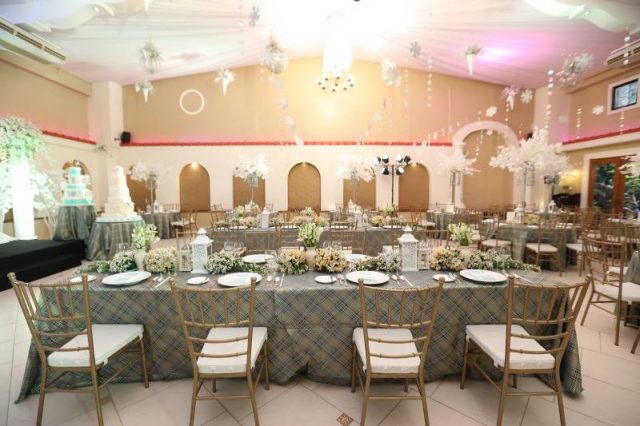 Ibarra's Party Venues and Catering, one of the most trusted brands in the local wedding industry, held another magnificent Grand Food Tasting event at Plaza Ibarra on March 1st. During this much awaited event, the company also revealed is newest party venue: Casa Ibarra. Located within the Mall of Asia Complex in Pasay City, this is going to be the next favorite venue among couples in Metro Manila.
Couples were thrilled to learn about this revelation. They also had a great time sampling some of the best dishes Ibarra's is known for. The menu is as follows:
Appetizer
Assorted Canapes
Sushi Rice Mall
Soup
Cream of Mushroom Soup
Soft Bread Roll and Butter
Salad
Mixed Greens and Condiments with Two Dressing: Island Dressing and Ranch Dressing
Potato Tropical Salad
Tempura
Carvery
Beef Sirloin with Peppercorn and Mushroom Sauce
Hot Buffet
Hickory Pork Spareribs Barbecue
Chicken Parmigiana
Seafood Newburg
Oven Roasted Mixed Vegetables
Paella Valenciana
Pasta
Pasta: Fettuccine, Spaghetti, and Penne
Sauces: Carbonara, Pesto, and Tomato with Herbs
Dessert
Assorted Pastries
Fresh Fruits in Season
Mango Tapioca
Coffee Jelly
"Masarap yung food, kakaiba," couple Reina (27) and Eugene (26) commented. Set to get married on Sept. 30, 2017, these soon-to-weds also praised Ibarra's and shared what they loved the most about Ibarra's. "Yung ambience, relax yung venue sa Ibarra's Garden, the couple said.
Another soon-to-weds who took part in the event was Kaycee (28) and Ian (28). They are getting married on Dec. 23, 2017 and they liked Ibarra's because of its accommodating staff, the overall look of the venue that matched what they were looking for, and the food. The couple also had a blast during the event and said, "Masaya, first time ko um-attend ng ganito. Maraming surprises, may raffles pa pala. Masarap yung food."
Speaking of raffle, here are the lucky winners during the raffle draw:
Free use of van service: Mr. and Mrs. Bolano's 25th Wedding Anniversary, Hannah Vince 7th Birthday
Free use of two units of lights: Nabong-Hermano wedding
Free use of LCD projector and widescreen: Soberano-Pazzubugan wedding
Free use of eight (8) pcs. mood light: Balaba-Sanchez wedding
30% discount on 1966 Mercedez Benz: Escopete-Santos wedding
30% discount on 1956 Porche Top down: Carol Pinto 60th birthday
Free airbrush makeup for bride: Diana Rose Bisono 18th birthday
Free 2-hour photo booth service: Lim-Saculo wedding
Php1000 off Hosting service: Basco-Aranas wedding
Free 24 pcs. cupcakes: Pasamonte- Casino wedding, Cabral- Nobleza wedding
Free hotel accommodation: Tricia Avila 18th birthday, Regina Pricila 18th birthday, Eunice Red 18th birthday
This Grand Food Tasting event is just one of the many fantastic gatherings made possible by Ibarra's Party Venue and Catering. Having served over 150,000 covers per year, this brand never fails to wow not only couples but also individuals and families by providing only excellent wedding services.
Now with its newest venue and more innovations, it just goes to show that even after so many years of being a top player in the wedding industry, it is never complacent. Instead, it continues to look for means to improve its services even further. This level of commitment and dedication, combined with all of its team members' genuine talent and skills, help the company come up with wider food selections in generous serving, more elegant and highly personalized event setup, and a lot more.
In the end, everything the team does is a reflection of its corporate philosophy of providing every client the best service possible at reasonable rates, regardless of the occasion. This company envisions to provide clients and guests an elegantly set-up venue, top-both suppliers, world-class banquet service, a wide array of regularly updated amenities, and other accoutrements exclusively packaged to meet the highest standards and get clients their money's worth.
Apart from Plaza Ibarra and the soon-to-open Casa Ibarra, Ibarra's Party Venues and Catering also owns Bella Ibarra, Ibarra's Garden, and Villa Ibarra. For inquiries and reservation, kindly call (632) 522-9999, (6346) 483-0770, or (63915) 691-0926. You may also send an email to [email protected]. For more information, visit http://www.ibarraspartyvenues.com.ph/ and https://www.facebook.com/ibarrascatering/.
Comments
comments