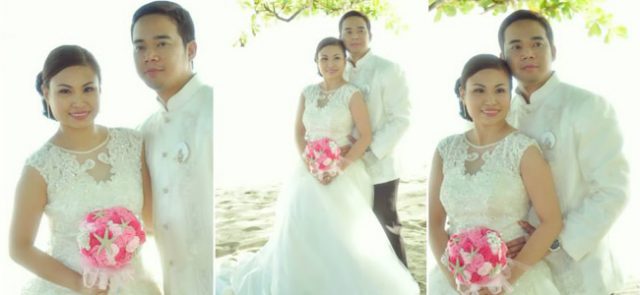 Roland Ramirez and Joanna Corpuz
By Rey Belleza | March 2014
Third Time's a Charm
The year was 2011. Joanna and Roland did not foresee what was coming – they were in a position to rekindle their old romance. It will be their third try.
Back in college in 2003, Joanna and Roland had great chemistry. Thanks to cheering competition, Algebra class, and instant messaging, friendship blossomed into romance. After a year though, they decided to keep the friendship instead of the romance; they were always better off as friends.
A few years later, they were already miles apart as Roland moved to Dubai while Joanna to Singapore. But that did not stop them from thinking about each other. So, they tried to bring back the love the second time; it only lasted for a few months. There was also a chance for them to fix things when both went home to the country. Unfortunately, they were committed, so they were not able to meet.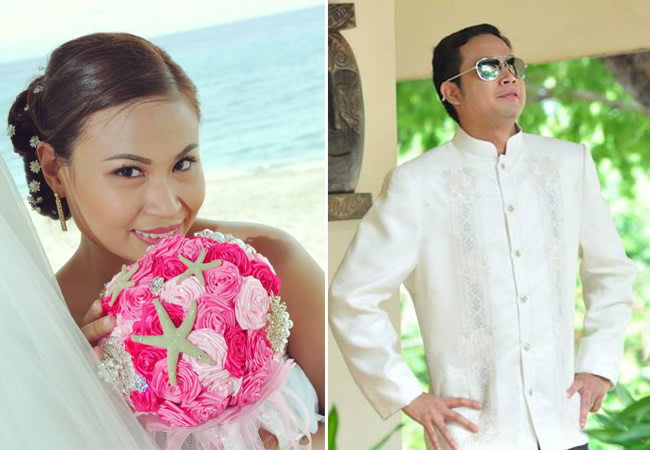 This time they were still unattached. So Roland took a leap of faith to pursue Joanna once again. Will they give it another try? Or will they remain friends for good? …And just like that they were together again.
Learning from past experiences, they settled issues and tried their best to make the relationship work. So Joanna followed Roland in Dubai in April 2012 and got a job. On December 2012, the day of their anniversary, Roland popped the question to her at The Cove, Ras Al Khaimah, UAE. The latter answered with a resounding "Yes".
Wedding at the Beach
Roland and Joanna wanted a fun yet intimate wedding – what better way to profess their vows than to have it at the Virgin Beach Resort at Laiya, Batangas. Also, Joanna's dad is a sailor, so it was an appropriate venue.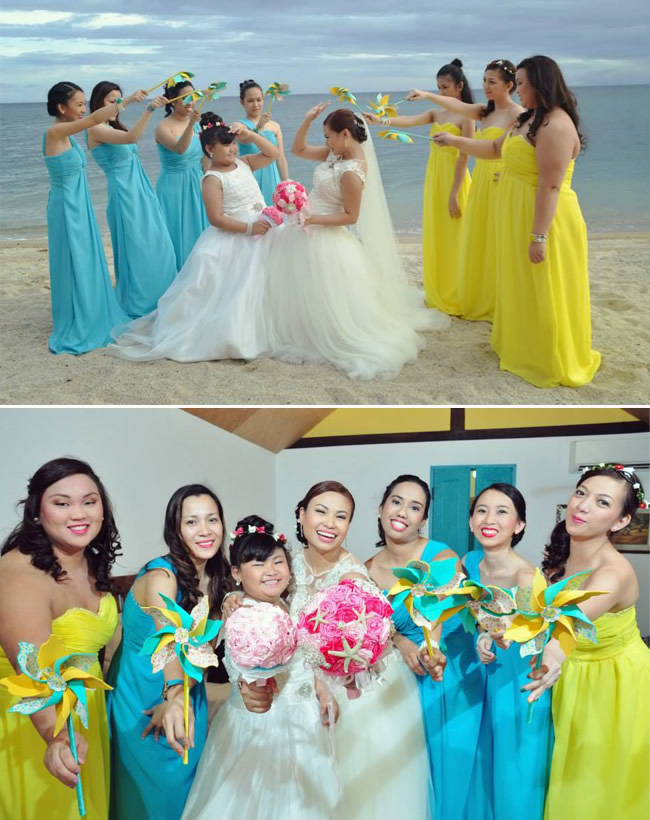 As to the weddings details, the couple were hands-on. Joanna made her own bouquet and the entourage's pinwheels, while Roland made his boutonnieres as well as those of the boys. Her mom took care of the reception details (paper boats, slippers, etc.). Souvenirs were from Victoria's Secret. They put them inside colorful bottles to match the theme. They were also in charge of the invitations, missalettes, and the rest of the paper works.
And on December 22, 2013, Joanna and Roland tied the knot. It was also their second anniversary. With hues of pink, purple, aqua, and yellow glowing on this fateful day, the college sweethearts were now inseparable.
Covering their special day was Phases and Faces Photography. With Mr. Edward Unite at the helm, they received personalized services. Phases and Faces' creative team also made the couple's photos memorable as they played on the wedding's wide array of bright and hopeful colors. All of these were charged at reasonable prices.
…A hundred smiles were visible while the sun gave some needed warmth, wishing the couple a blissful marriage. Indeed, Roland and Joanna could not have enjoyed their most memorable day more at the beautiful beach.
Comments
comments